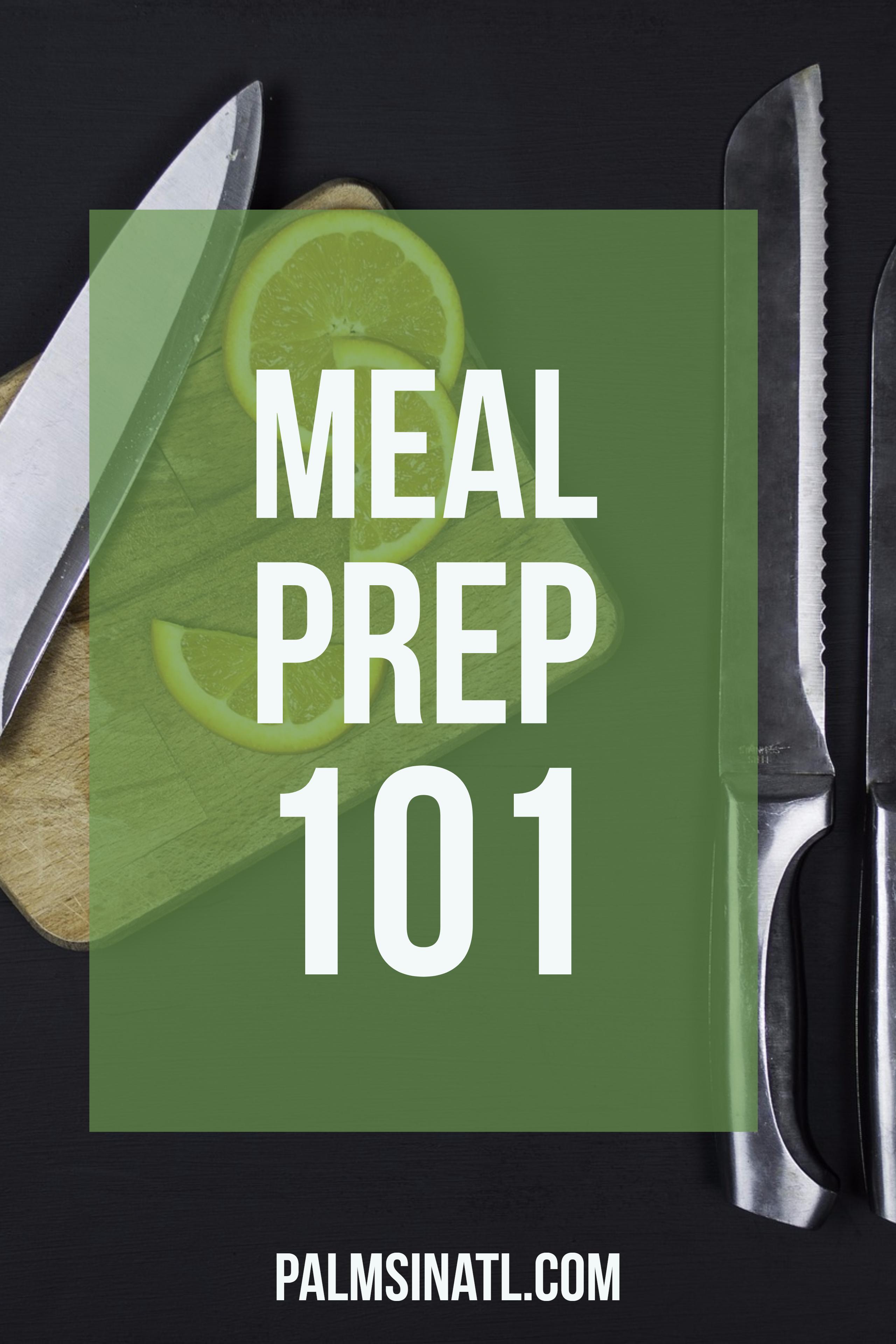 Let me start by saying I'm still fairly new to meal prepping. I'm not a fitness nut, by any means, but I made a goal to make healthier food choices this year. Through meal prep, I've kept myself from running to Burger King or whichever fast food joint has the shortest line. Don't get me wrong, I do quite enjoy grabbing a burger with a Frosty to dip my fries in, but the benefits of meal prep are keeping me consistent. By taking a few hours out on Sunday or Monday:
I've been drinking more water and my skin thanks me for it.
I've lost about 11 pounds. This is just with making changes in my eating habits. My goal is get back on a workout plan, but I'm trying to conquer one thing at a time.
I don't find myself scrabbling to put together lunch in the morning causing me to run late (or later) than usual.
I've actually cut my grocery bill significantly by planning out my meals in advance.
Most people meal prep breakfast, lunch and dinner, but remember there is no right or wrong way to meal prep. For example, I haven't added breakfast to my prep routine quite yet and sometimes I meal prep for lunch on Sundays and dinner or Mondays depending on my schedule. Figure out what works for you. You may even want to start out by prepping for 3 – 4 days, and allowing one day for you to go out and grab lunch with a friend.
How to Get Started
Decide on your meals for the week before you hit the grocery store so that you know exactly what you need. Personally, I'm a huge comparison shopper, so my meal prep is highly dependent on what's on sale or what I have stocked up.  I'll scan the local ads for who has the best deals and get my list together from there. Here are some options for you: I try to go with 1 carb + 1 protein + 1 or 2 veggies. Pinterest is always a great resource if you need help deciding what to make. (Beware of the hardcore: broccoli, sweet potatoes, chicken breast) While the combo is delicious, Eating that for an entire week could dissuade your tastbuds from continuing with meal prep.
Carbs: Quinoa, Brown Rice, Sweet Potato, Lentils, Whole Wheat Pasta
Protein: Chicken (breasts – skinless, boneless or chicken thighs also ok),  Ground Turkey (93% lean or higher),  Lean Beef (85% lean or higher), Fish (Salmon, Tilapia, Tuna) Shrimp, Eggs Beans
Veggies: Broccoli, Green Beans, Cauliflower, Snap Peas, Kale, Spinach
You'll also need some meal prep containers. I use a set that I found in Sam's Club, but am going to in vest in some Pyrex or other glass option. However, many people use the ones linked here and here. Once you've decided on your meals for the week and have bought all the necessary ingredients, it's time to cook.
The Prep
A great time saver is roasting/baking one part of your dish while cooking the rest on the stove top. I'm also a bag fan of the crock pot.
Remember, I'm writing about what's worked for me, so adapt to fit your lifestyle.
I usually start with the meat. Whether I'm baking, grilling, or throwing it in the crock pot, it's usually a good starting place. I love experimenting with flavors and try to incorporate as much variety as I can so that I don't get bored of eating the same thing each day. For example, for chicken breasts, I'll marinate them differently or use two different combinations of spices.  You may even want to alternate your proteins.
If I make brown rice or a carb that needs to be boiled, I usually make that step two. Next are my veggies. After cleaning and cutting, I either throw them on the stove or prepare to roast them in the oven once the meat is out. I'm also a big fan of frozen veggies, I try to keep a few staples on-hand (broccoli, cauliflower, kale).
This week's meal prep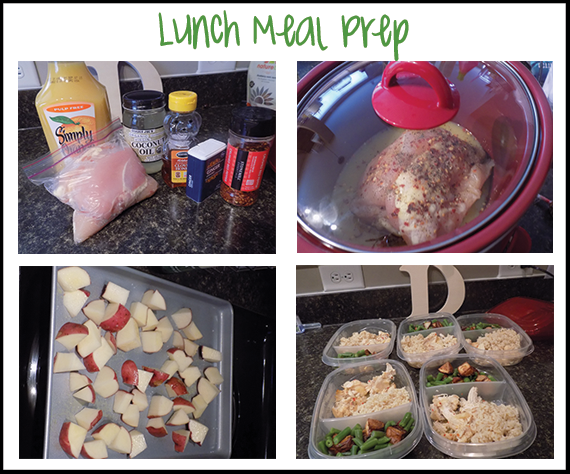 For lunch I made orange ginger chicken in the crock pot and paired it with brown  rice, roasted red potatoes and green beans. I used the three large boneless, skinless chicken breasts in my freezer. I added in 1 cup of orange juice, a tablespoon of coconut oil, red pepper flakes, pepper, 1.5 TB of honey into the crock pot on high for 2.5 hours. When there were about 20-25 minutes left, I added a little cornstarch mixed in chicken broth to thicken the sauce.
I cubed the potatoes (2 large) and sprinkled them with extra virgin olive oil, pepper, and a little sea salt. Roast them at 425° for about 30 min. This meal could easily be made for dinner, smaller portions make it appropriate for lunch.
Turkey Burgers or Salmon Burgers with Sweet Potato Fries
Baked Tilapia, Mashed Cauliflower, & Broccoli
Burrito Bowls (Cilantro lime rice, grilled chicken, black beans, cheese and avocado)
Turkey Wraps with Avocado, Red Pepper Hummus and Spinach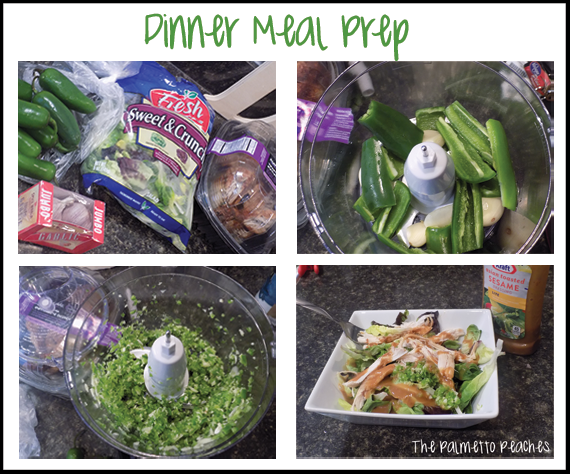 I was watching a Paper and Glam vlog where Lisamarie made a delicious salad that looked so good, I ran to buy all the ingredients. I've altered/ simplified it a bit,  but it's been in constant rotation ever since watching the video.
For this, you'll need garlic, jalapeno peppers, rotisserie chicken (I usually get one from Sam's Club for about $3.99 and you can use it for lunch and dinner), and I prefer the Sweet & Crunchy Fresh Express Blend (Lisamarie used the Trader Joe's Cruciferous Crunch).
Toss the peppers (4 medium sized) and garlic (1 clove) in to a food processor and make sure everything is finely chopped. If you're not a big fan of too much heat make sure you don't include the jalapeno peppers' seeds.  I add a spoonful or two (a little goes a long way) of this mixture with my salad along with some rotisserie chicken, and top with Kraft Asian Toasted Sesame salad dressing and yum yum yum. I get an easy dinner salad for the week.
Go to dinner meal prep ideas:1) zucchini or butternut squash noodles and meatballs; 2) coconut curry chicken – chicken breast, coconut oil, onions, red bell pepper, yellow and orange peppers, curry powder, garlic powder, ground ginger; 3) baked salmon with lemon pepper, red potatoes and baked asparagus.
Snacks
I like to hard boil a few eggs for the week, to eat as a snack. I sprinkle one with a little pepper or mash it up and add avocado for a protein packed snack. Other great healthy snack options include: yogurt, cheese, veggies + hummus, and I'm obsessed with NatureBox. If you'd like to try Naturebox out I have three free 1- month subscriptions to giveaway. Please note you will have have to pay $2 shipping, but it's sooo worth the yummy healthy snacks. Just comment below or send me a tweet and I'll get back to you.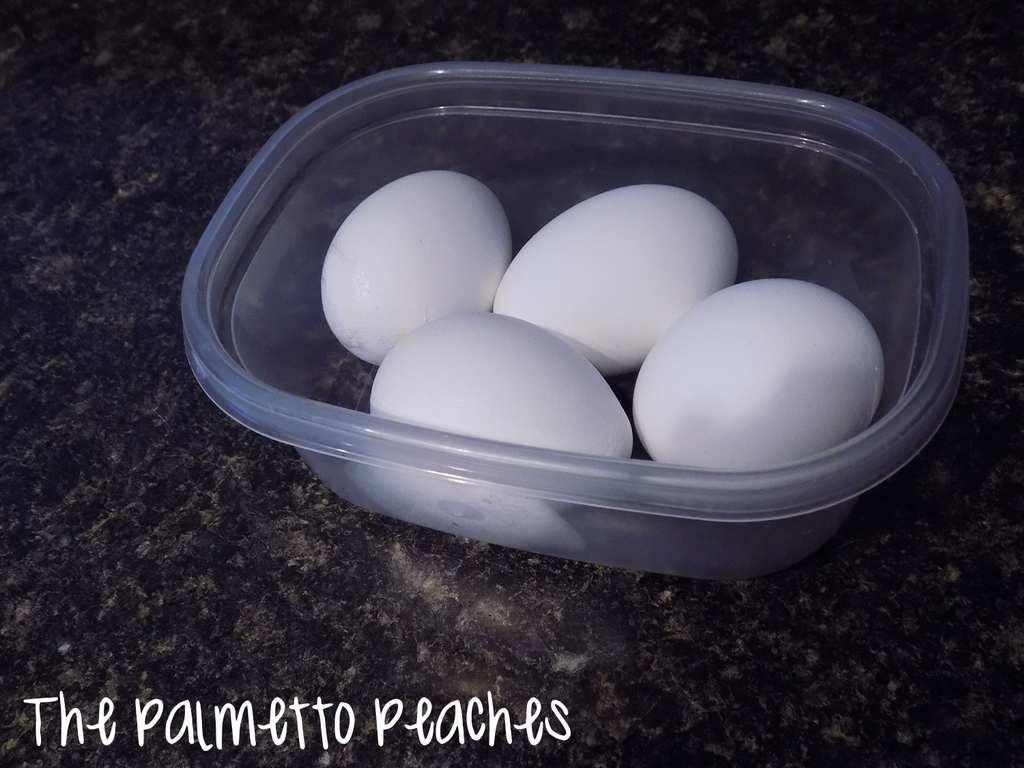 Follow me on Instagram to keep up with my meal prep.  I'd also love to hear your meal prep tips and tricks. Feel free to leave them or any questions you have in the comments below! And again, if you're interested in trying out Naturebox, let me know and I can gift you a free 1 month trial.