Summer is definitely my favorite season. Despite the almost unbearable heat – summer brings pool parties, cookouts, fireworks, and my birthday!! We're about 10 days into summer and I wanted to bring you some of my summer essentials.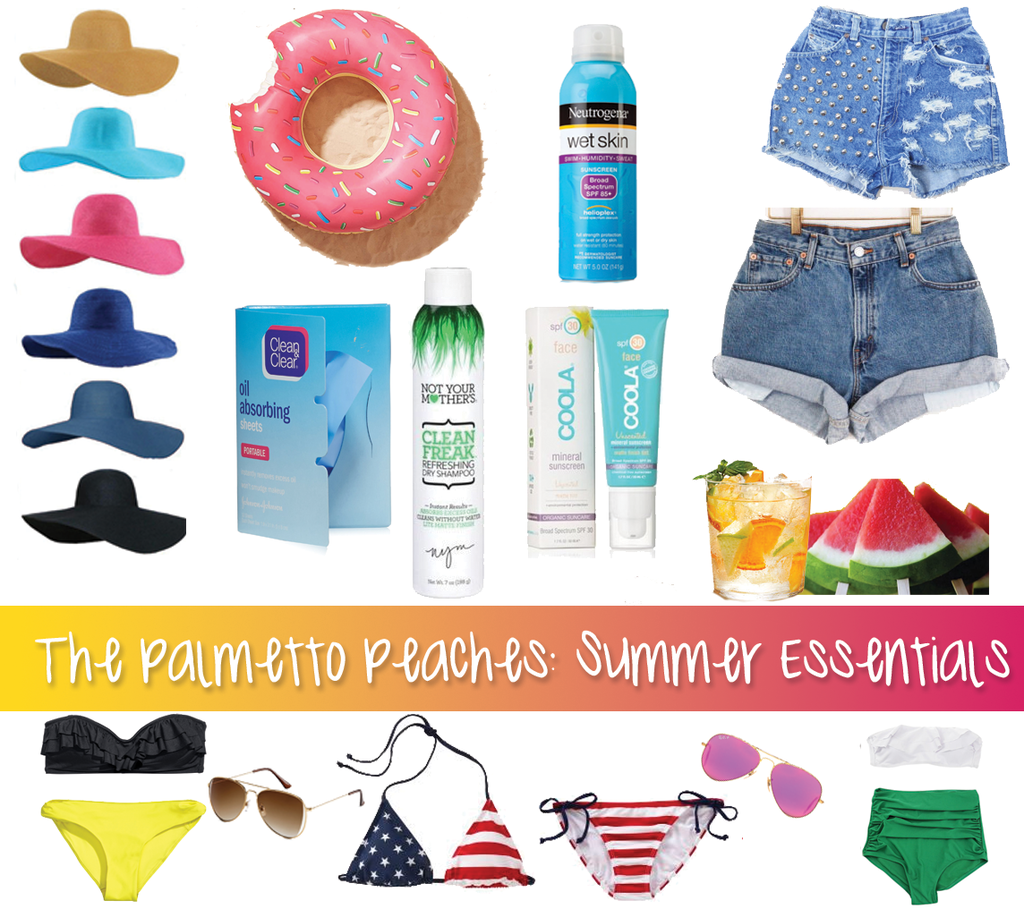 Summer Essentials
1. Floppy Hat – I'm all about protecting my face from the sun and looking cute while doing it. Go simple or monogram it, but get yourself a floppy hat.
2. Sunscreen – After my first Bonnaroo, I learned that even my melanin rich skin could be burnt. I started to peel and I thought I was dying. So now summer days are not complete without sunscreen. Most days, I'll mix a little drop of Neutrogena Age Shield Face Lotion Sunscreen Broad Spectrum SPF 110 with my primer. Coola Mineral Face SPF 30 Sunscreen Matte Tint is also a really good choice. My daily foundation, COVERGIRL Queen Collection All Day Flawless, has an SPF of 20, so I don't feel too bad if I skip this step.  As far as the pool, Neutrogena Wet Skin Sunblock Spray, SPF 85+ is my go-to sunscreen.  Don't forget to reapply.

3. Blotting Sheets — I don't know about you, but in the summer no matter how excellent my mattifying primer is I get a little oily. So I always keep some Clean & Clear Oil-Absorbing sheets in my bag. 
4. Dry Shampoo – Not Your Mother's Clean Freak Refreshing Dry Shampoo is a great hair pick me up during the summer. 
5. Denim Cutoffs –  Five days out of the week, I'm relegated to pencil skirts and cardigans. Because of this I basically live in denim shorts on the weekends during summer. Find yourself one or two pair you love and pair with sandals or sneakers and a tee for relaxed look.
6. Fun Pool Float – Whether you're at the pool at your apartment complex or floating a river in your city you could probably benefit from a cool float. Look at this awesome doughnut float  and this amazing pizza float.
7. Bathing Suits and Sunglasses – Every summer I tell myself that I don't need a new bathing suit and inevitably I find myself pursuing the racks for some pieces I can mix and match with. I'm finally jumping on the American trend this summer and found some cute stars and stripes bikinis at Target. Ruffle bandeau tops are my go to and I found some nice ones at H&M. As far as sunglasses, I lose/break at least 3 pair every summer, so it doesn't make a lot of sense for me to drop $200 on some Ray-bans. I stick to selections at Target or hit up Marshall's and TJ Maxx for my sunnies. This summer I'm loving mirrored aviators and wayfarers.
8. Treats – Frozen watermelon pops (add coconut rum if you're 21+) are the perfect summer treat. Simply cut a watermelon into triangle slices, add a wooden popsicle stick and let them sit in the freezer for at least four hours. White Sangria – I don't think I really need to explain. Sipping white sangria poolside is heaven on earth. This recipe over DamnDelicious.net is so yummy.
Mix these with good music and good weather and you've got a perfect summer day. What are your summer essentials? Leave a comment below or tweet me @donnicakelsey.