Some people feel the rain. Others just get wet.
Live Reggae, wine and Jamaican jerk food makes for a perfect Sunday Funday. The second annual SC Reggae, Jerk & Wine Festival brought Jamaica lovers out to Magnolia Plantation on August 30th, and I was right there with them. Not even a few hours of rain could ruin the festivities. By "few" hours I mean 6. LOL, it rained the entire time–but that didn't stop my inner dancehall queen from hitting the Dutty Wine.

What I thought would only be a day of posting to Facebook and trying not to faint in the heat, turned into a day of great food, good vibes and dancing in the rain.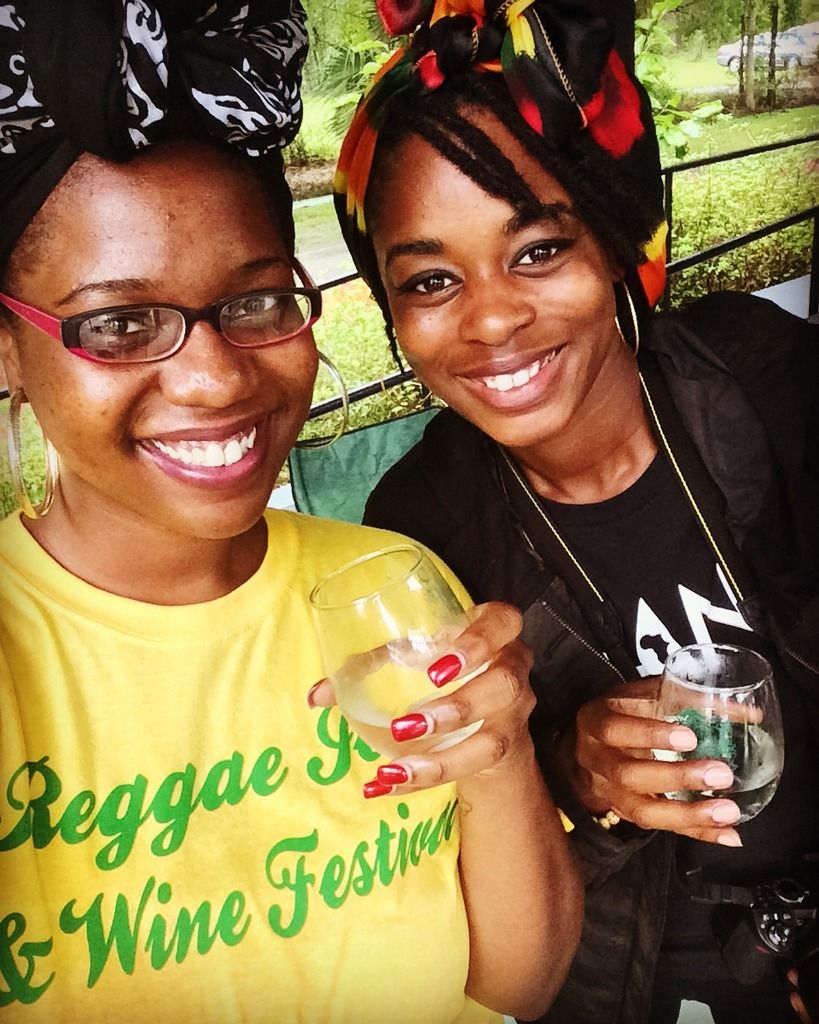 "It's almost impossible to be in a bad mood when there's Reggae music playing." Oh, Nashonda (pictured above), you're a genius. Naturally, all I could think about is having to walk around in the wet, muddy grass in my Rainbows. #FirstWorldProblems My hopes of frolicking around with my hands in the air were slowly vanishing, but bruh, I was wrong. How can you not dance to reggae music–if it's a side sway, two-step or full on twerk-off? For the record, I did all three thanks to international Reggae and Soca artist, Kenne Blessin, and Charleston's own, Dubplates.
I've had Jamaican food before, but my life was changed by the Jamaican beef patty in New York almost 10 years ago. However, before I could return to New York to get one of my new favorite dishes–I transitioned to a vegetarian. Well, about 7 years later, the roles have changed again. The delicious beef patty and I were separated until recently. (I had a few love affairs with a grocery store brand, but it was nothing like the first time.)
Side note: I was being nosy trying to figure out why this delicious food is called "jerk" on a website called The Kitchen Project. Here's what I learned:
"Jerk cooking experts like native Jamaican and author Helen Willinsky of "Jerk from Jamaica" says that the name Jerk also could have come from the turning of the meat in the marinade or from the way some folks will just jerk a strip from the roast on the BBQ."
Don't get it twisted the "wine" in SC Reggae, Jerk & Wine Festival wasn't for the Dutty Wine; it was for "wine" as in fermented grapes…as in what I use to help calm my nerves. Total Wine reps served up champagne and Riesling realness, along with other favorites, during wine tastings. I heard wine enhances the jerk flavor, but mine didn't last long enough to prove that theory. Sorry.
Now that I think about it, this was my first (and possibly last) festival of the summer. WHO AM I?? Music festivals are super fun, but I'd love to go to more culture festivals. Which ones are you looking forward to in the near future? Leave a comment below with the name/location of your favorite culture festival, or tweet me @TheAceAlexa! I'm also interested in hearing about any Jamaican dishes you love. I'm no chef, but Donni is, and she loves me. 🙂