What all do you know about The Palmetto Peaches? They say don't judge a book by its cover, and the same goes for the two of us! We love connecting with our awesome readers. What better way to do so than by sharing our guilty pleasures and pet peeves?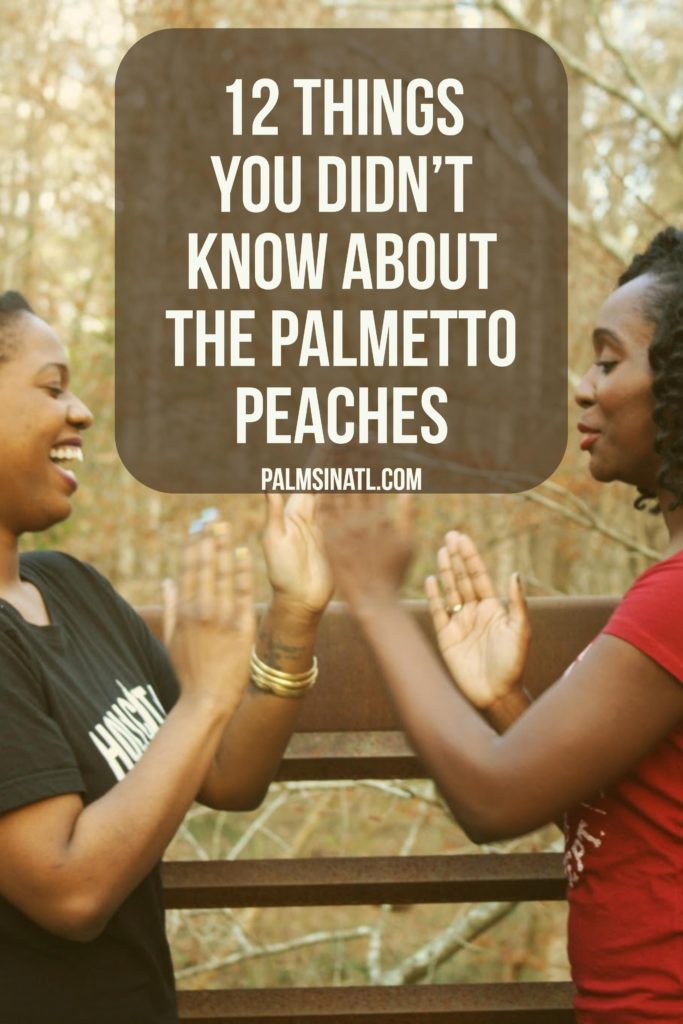 Ace
"Blue" by LeAnn Rimes is one of my favorite songs. When I thought I'd be on Showtime at the Apollo as a kid, that's what I was going to perform. Before American Idol and The Voice, there was Showtime at the Apollo–and I was determined for it to be my big break. Mission Unaccomplished.

Talking on the phone is my least favorite form of communication. Text me. Write me a letter. Send me a message in the bottle. Just call me as your last resort. If it's an emergency, call 9-1-1. I think the next thing on my list has a lot to do with my anti-phone conversation movement.
Sometimes, I have the attention span of a 2-year-old. Not to say I don't care about the conversation that's supposed to have my attention–but my brain is like a kid when a new toy comes along. The toy could be a lengthy email or a nephew climbing on a table. My arts school education is to blame for my short attention span…mainly because most of my friends who attended that school have the same issue.
I'm one of the lucky people in the world who had 8 wisdom teeth pulled at the same time. The dentist, who also told me I have a mouth of gator, said it wasn't uncommon. Apparently, there were wisdom teeth growing on top of my 4 wisdom teeth. I missed school for weeks, looked like Alvin the Chipmunk and my breath was kickin' like Bruce Lee.
I have four tattoos. I haven't figured out why this surprises people. You know what they say about assuming. 😉 Although the stories behind all of my ink are pretty dope, my plan is to change two of them by either adding to them or taking something away. And yes it's true, once you get one tat, you'll want another…and another…and probably another.
Gas stations were super scary to me until my early 20s. My cousins and I had a little incident that involved gasoline, and a trip in an ambulance. I stayed as far away from a gas pump for as long as I could, including in Driver's Ed. (Shout-out to my college roommate who would follow me to the gas station to make sure I didn't pull a Zoolander.)

Donni
One of my biggest guilty pleasures is Days of Our Lives. Yes, the soap opera. Last year one of my favorite characters was killed and it was like the end of the world. I cried really ugly tears.  EJami (EJ and Sami for you newbs who don't understand 'ship names) was my favorite couple on the show- the audacity of the writers to break that up. One of the highlights from September was when Last Week Tonight brought James Scott and Alison Sweeney, the actors from DOOL together as a gesture toward Noujain Mustaffa, who learned English by watching the show. I like Noujain am obsessed with Sami and EJ and probably enjoyed this little reunion more than I should have.
I know all the lines to The Temptations, Ever After: A Cinderella Story, and The Color Purple. Not only do I know the lines- I will recite them with the appropriate accents as I watch the movie. For the record, I've never understood the British accents in Ever After. I mean they are in France after all.
Forget The Lion King, Pocahontas, The Little Mermaid – my favorite Disney movie is a little gem called The Aristocats. Edgar is definitely  one of the most fantastic villains. And how can you not love Scat Cat and the smooth Abraham deLacey Giuseppe Casey Thomas O'Malley – O'Malley the Alley Cat. Yeahhhhhh!
Hi, my name is Donni and I am a book nerd. I've already shared a summer reading list, so you probably know that I like to read, but I really really really like to read. I'm the girl who goes to bed with the plan to read one chapter and then suddenly it's 3 a.m. and I'm on the last page. I finished the entire Hunger Games series in less than 72 hours. I refuse to watch movies without reading the book it was based off first. Book reports were my favorite assignment in school. One of my high school honors English teachers curated an entire list of books for me to read outside of class because I finished her reading assignments too quickly.  
My childhood dream was to be on Nickelodeon's Figure it Out. Please tell me someone remembers that show! I think my hidden talent would have been something fairly lame like holds the record for breaking the bracelets made of beads. Global Guts was also high on my list of shows I wanted to appear on. I would've crushed the Aggro Crag! P.S. The host of Global Guts was totally Kurt's dad on Glee. I had no clue until I was writing this post.
I occasionally like to knock back shots of creamer.  Are your eyebrows raised? Are you laughing at me? That's fine. Yes, I'm talking about those those little individual cartons of creamer you get when buy coffee from Say McDonald's or at the gas station. My Dad would get me a handful whenever he got coffee which was often and I still drink them to this day.
Are you surprised? Feel free to share a little known fact about yourself. We'd love to get to know our readers better!