New year, new me…right? Well we're not going to go that far, but we wanted to start the new year off by sharing some of our 2016 goals – personal and blogging.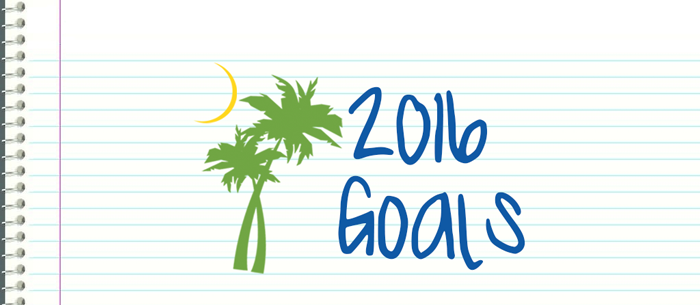 2016 Goals – Ace
Write a book: Although I've been working with my cousin to write her memoir, I want to create my own project. A few weeks ago, I created a timeline to start implementing the end of January. There are a few ideas floating around in my head, but I haven't narrowed it down yet to what my book will actually be about.
Social media cleanse: I already took a baby step with Facebook by deleting the app from phone. My social networks are way overdue for an unfriend and unfollow spree.
Learn about chakras: Another part of my social media cleanse is following people who actually interest me. The common theme in the latest accounts I follow is they tweet a lot about chakras and balance. Lately I've been taking shots of Apple Cider Vinegar to wake-up my third eye chakra (Ajna). So it'll be pretty cool to learn about how to balance and align the rest of my chakras.
Start using a planner: I think I was so good at "schooling" because I always wrote things down. Whether it was notes on a chapter, adding my work schedule to my calendar or just doodling. So the goal is to start using a physical calendar instead of a digital one (also known as my iPhone). My life was just a tad more stable when I had some sort of routine, and a planner will help me get back on track.
Design a journal: Even if it's just for myself to use, I want to design a space for me to write my daily thoughts.
Blogging Goals
Learn to code: I used to be really into this stuff when I was a kid, so it's time to bring it back. I signed up for a few free, online coding courses. Hopefully, I'll put them to use in 2016!

Connect with The Palmetto Peaches' target audience/readers: I'd like to bring in more authentic readers who actually want to read what I'm saying–instead of folks just trying to get a follow back.
Rebrand my personal blog: The Palmetto Peaches blog isn't the place for me to remove my filter, or speak on every issue that bothers me. Soooo, I need to rebrand myself, and connect with my future tribe in 2016.
2016 Goals – Donni
I've moved into my new 2016 planner and one thing that I'm implementing is a monthly mission board that houses goals by the following categories: financial, health, home, personal, social and work.  I'm not going to share all of my goals, but below you can get an idea of what I'm working toward this year.
Financial
One year saving challenge – I'm sure some of you have heard of this idea. Every week you put a set amount away in savings and the amount increases or decreases in set increments. With my saving challenge, my goal is to is have $1378 saved. I've created a printable for anyone who wants to join me on this challenge. I've also created a blank version so you could set your own amounts based on your financial goals.
Health
I want to get back on track with committing to a fitness routine. By the end of the year, I would like to have a routine figured out that I'm consistently working out 3 times a week.
Drink 96 ounces of water per day.
Personal
Working on my personal relationship with God. With any relationship, there are ups and downs and I'm at the point where I would like strengthen my faith. No matter what or who you believe in, hopefully you can understand my need to embark on a spiritual journey of sorts.
Read 24 books. To be honest my original goal was 52 books. I love to read, but I'm not sure this was realistic with some of the other goals I have.  I've joined the Paper and Glam book club and am excited to join these ladies reading a new book each month. I've also chosen a second selection for each month. You see my full 2016 reading list here.
Blogging Goals
Write about things that scare me. While I like making you guys chuckle about why Fifty Shades of Grey is the worst book ever written, I want to write deeper posts. So more personal topics coming this year!
Take more blogging e-courses. I've participated in a few e-courses last year, but a few turned into let me tell you why my blog is awesome presentations – which obviously wasn't very helpful. If anyone has any suggestions for some good e-courses,please leave them in the comments below.
What are your goals for 2016? Leave us a comment below.

 and