Happy April, folks! Don't be foolish — keep tracking your progress on your goals. Back in January, we shared our 2016 Goals. Now that the first quarter of the year is over, we're back to show-off our progress.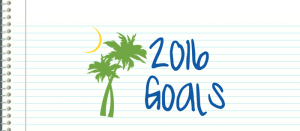 2016 Goals – Ace
Write a book: No major update here. My soul sister in sketchiness, Asia, threw book ideas at me recently. We just have to stay focused long enough to execute. 🙂 Also, I signed up for Write Your Ass Off April. Book-worthy gems could come from that, and I might publish a few entries here. Stay tuned!
Social media cleanse: This was easier to do after Beyoncé's Super Bowl half-time performance. I happily un-friended a few Facebook friends. It didn't end there though. Some of my "friends" aren't adding any value to my life. In the early FB days, I would send and receive requests to people I met at parties, had classes with, worked with, or had drunk bathroom chats with. It's enough to take in opinions and major life events from people I know/love, but these strangers take up valuable space! Here's a trick: when you get the notification that one of your Facebook friends has a birthday, and you can't think of a good reason why you're still Facebook friends–delete them!
Learn about chakras: I'm finishing Week 2 of Oprah and Deepak's 21-Day Meditation Experience. This year's theme is "Shedding the Weight". Perfect timing, right? Other than that, I'm working on breathing practices that focus on aligning chakras.
Start using a planner: I'm now the proud owner of TWO planners. I bought a Bloom Planner in January, and won another planner from a #HerMovement Instagram giveaway. I use the Bloom Planner to focus on blog stuff and the #HerMovement one for personal things (bachelorette duties, family events, Aunt Flo coming to visit. Ya know, that kind of stuff. ?)
Design a journal: I haven't designed my ultimate dream journal, but I did do this:

But The Hood Loves Me Journal

by

HoodHippie

View Writer Journals online at

zazzle

My cousin Alaina drew this for me after I told her about an idea I have for t-shirts. Once I saw it, I was like "I need her on a journal and coffee mug!" I'm working on a few other designs and concepts too, so be on the lookout if you're the type of girl who balances her chakras to trap music. ✌
Blogging Goals
Learn to code: I never made it past signing up for the free courses. My bad.
Connect with The Palmetto Peaches' target audience/readers: Someone told me I remind her of Crissle, and another said Necole Bitchie (we clearly don't look alike). In my world, that's a big deal!She elaborated by saying Crissle and I voice our opinions the same, and I'm assuming since Necole and I have similar stories, we're alike. I'll take it!  On to the subject at hand–right now I'm in Alex Tooby's Instagram Marketing Mastermind group. Even though I'm a little behind in the courses, I've already seen a little progress! I'm also trying to be more active in Facebook blogging groups. There are a few girls in the group who are more my style when it comes to blogging. It's pretty cool seeing how they reach their audience, while also discovering blogs I wouldn't usually read. After a few hours in Mattieologie's #ThePostEdit webinar, I realized a few things I can change in my posts. I'd rather have 50 loyal readers, than 5,000 followers/likes (let's be honest, followers and likes can be bought). I just have to improve my strategy to make sure I catch and hold on to the loyal ones!
2016 Goals – Donni
Financial
One year saving challenge

 I've been doing fairly well with this. I'm a little under where I should be for week 13, but I think I can easily make it up. I've always had issues sticking to budgets, but it's nice to see my savings growing. FYI – I created a printable for anyone who wants to join me on this challenge. I've also created a blank version so you could set your own amounts based on your financial goals.
Health
Commit to a fitness routine.

I've been working out. More consistently in the past month, but I still don't have a set fitness routine or schedule that I abide by.

Drink 96 ounces of water per day

This was a fail, but I blame myself bringing at 30 or more ounces of coffee to work everyday. With the weather warming up, I plan on getting back on my fruit-infused water.
Personal
Work on my personal relationship with God.

 Through journaling and use of my devotional, I've made more time to focus on my faith. Instead of scrolling through my Twitter or Instagram feeds, journaling makes me turn everything off and focus on my spirituality.

Read 24 books.
Blogging Goals
Write about things that scare me.

I definitely think I've been opening up more. Some of my more personal posts about interracial dating and feminism have gotten the best feedback.

Take more blogging e-courses.

My goal was about one e-course per month. So far I've checked out The Nectar Collective – Build Your Email List  and Mattie's #ThePostEdit which were both very informative. If you have suggestions for webinars or e-courses please let me know.
Did you set any goals for 2016? Let us know how you're doing! Comment below or tweet us @PalmsInATL.