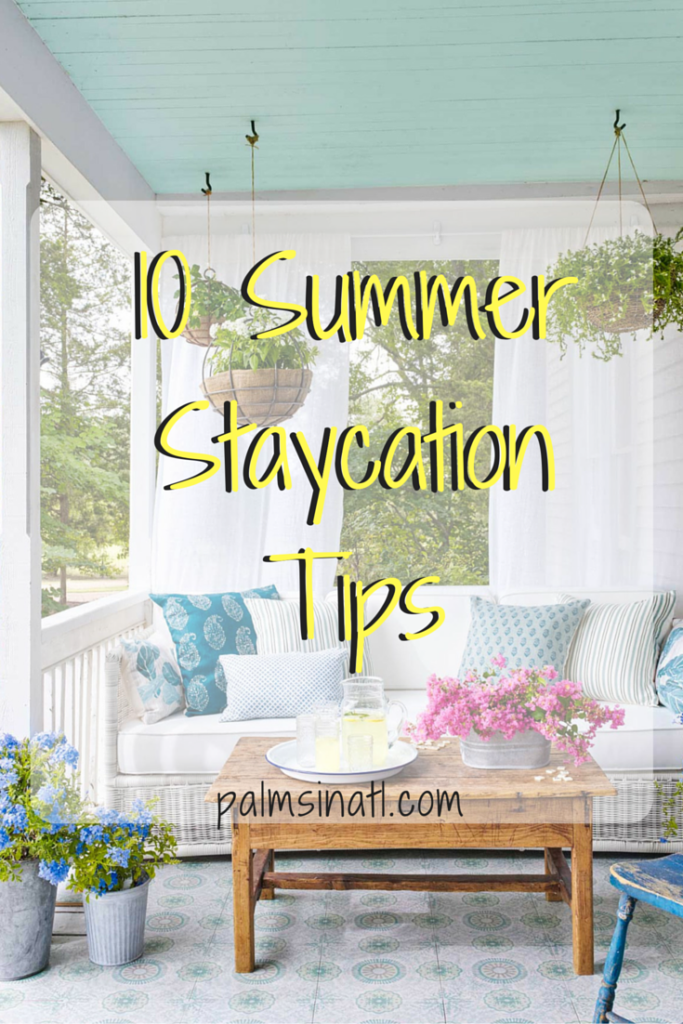 Last week, I talked to you about dream destinations, but now I'm going to do a 180.
Sometimes the best vacation is a staycation.
So wait Donni – you're saying you'd rather stay in Atlanta than stroll down the rue Saint-Honoré in Paris.
No, always say yes to Paris. However, if you're like me and passport stamps are necessarily in the cards for you right now, I've got some tips to help you plan an awesome summer staycation.
1. DO MORE THAN SLEEP.
Now by all means get some rest and enjoy sleeping in. You can even forbid the use of alarms during your staycation, but do more than sleep. You'll want to look back and see that something – more than rest-  came out of your staycation.
2. Set a budget, but splurge a little.
Maybe the reason you're choosing to staycation is to save some coins – I get it. While you may be able to find some awesome local events that are free, be prepared to shell out some money for tickets, parking and food. Just because you aren't off in a new, exciting city or country doesn't mean you can't splurge a little. Consider spending a little on an in-town bed and breakfast or a local resort. Look into any community theater or touring Broadway productions. See what summer concerts may be stopping in or near your city. Whatever you decide – set a budget and stick to it.
 3. SAY NO TO SOCIAL MEDIA.
Unplug. Unplug. Unplug.  Think about banning the use of your phone during certain hours of the day. I am usually glued to my phone, so I know how easy it is to ignore this one. But enjoy the time and the experiences you're having.  Check messages only when you want to. Remember :"not at all" is always an option.
4. Unleash your inner tourist.
A few weeks ago, my mom and two of my aunts came to visit me. Showing them around, reminded me how much there really is to do and see in Atlanta. Think about all the places you likely visited when you first moved to your city and have largely ignored them since: zoos, aquariums, museums, observatories, planetariums, historic home tours. Many of these places also usually have special exhibits or cool events – be a tourist for a day or two and check a few of them out.  If you've got a major sporting team in your city, consider a stadium tour — or just gorge on hot dogs and beer at a game. If you're planning some events for kids, don't rule out regional amusement parks and places that have bowling, miniature golf, go karts, or laser tag.
5. Transform your space.
Yes, you may be staying at home, but switch up. Play music that transports you to a new location. Perhaps you may want to create a vacation soundtrack. Burn a tropical candle and put some fresh flowers out that will create your island getaway vibe. Just because you're sitting in your living room – doesn't mean that you need to feel like you're in your living room.
6. Bring the amenities to you.
When you travel there are certain amenities that can come along with it. Determine what your favorite amenity is and try to make it happen at home. Buy a fluffy white robe that you can walk around in. Head over to World Market for some yummy international chocolates and leave a piece on your pillow. Turn a room into your very own home spa.
7. Treat yourself to some "vacation meals".
I don't know about you but my favorite part of vacations is eating out. So during your staycation order takeout or cook yourself something that is special – maybe try something you normally wouldn't. Do Chicago style pizza one night, Italian the next, Hawaiian BBQ, and finish of with Thai. Take a tour of some of the places you want to visit through the meal on your plate.
8. Take in some nature.
I think I've said this before, but by nature, I'm not a nature-person. (Did you just laugh?  Good – mission accomplished.)  However, when vacationing and staycationing, I encourage you to take in some sort of nature. Take a stroll through your local botanical garden, go hiking or biking, visit a state park. Seeing your city through the lenses of these settings can be really eye-opening.
9. Turn some pages.
That stack of magazines that's been piling up on your bookshelf or that book someone got you for Christmas —  crack them open. Sit in your home spa you created or head over to the pool and read, read, read.
10. Day drink.
Yeah, I said it. By the way, I also encourage night drinking. Head over to your local brewery or look into any wine-tasting or winery tours that may be available.  Wherever you live, you probably have your usual go-to spot when it comes to grabbing a drink.  AVOID that place.  Live like a tourist – ask a stranger what they suggest or choose a place based on Yelp reviews alone. Use your staycation to explore hidden gems in your city.
The best part about a staycation is that you can't really do it wrong.  Whether you're doing this solo, making this an couple's adventure, or planning activities with little ones, take the opportunity to fall in love with your city again (or for the first time). You might find yourself appreciating and discovering new things to love about home.
Have you taken a staycation? If so, do you have any tips? If not, how's it sounding after reading my tips? Leave a comment below!
P.S. Happy 4th of July to everyone!! Stay safe and enjoy!!