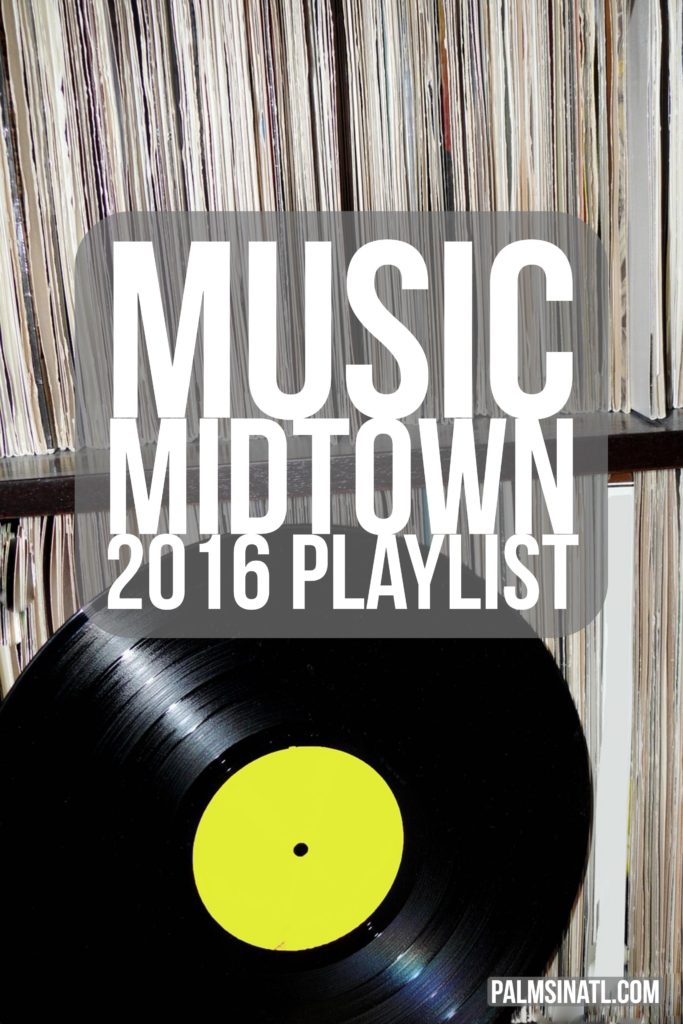 Wow, we haven't had a Palmetto Peaches' Playlist in a while. The last was in May, to be exact. One of the reasons I love living in Atlanta is all of the opportunities to see amazing musical performances. Just about every major tour stops through the city and we have some great smaller venues for artists as well. Although, I opted out of Beyonce this year so I could save a few coins. I did spring for Music Midtown tickets. I'm so excited for Music Midtown 2016, happening this weekend. Check out my recap from last year's festival. I'm most excited to see The Killers, James Bay, Kesha, Corrine Bailey Rae, Alabama Shakes, and DNCE. However, I just love live music in general and am ready for the experience.
If you're not making the trip to Atlanta for this years' festival (or if music festivals aren't your thing), I've pulled together a playlist of some of my favorite songs from some of the artists of Music Midtown 2016.  Hopefully,  you discover someone new or just an awesome playlist to jam out to.
Feel free to take a full look at the full lineup and send me any suggestions for artists to check out or songs to add my Music Midtown 2016 playlist!
Music Midtown 2016 Playlist
The Killers –  All These Things I've Done; Where the White Boys Dance; Somebody Told Me; Mr. Brightside
Twenty One Pilots – Heathens; Stressed Out;  Ride
Beck – Loser; Morning
Deadmau5 – Terrors in My Head; Some Chords
The Lumineers – Ophelia; Stubborn Love; Ho Hey
G-Eazy – Me, Myself & I; Tumblr Girls; Of All Things
Alabama Shakes – Sound & Color; Hold On; Don't Wanna Fight; Future People; Boys & Girls
Collegrove – Bounce; Bentley Truck
Band of Horses – The Funeral; No One's Gonna Love You
James Bay – Let It Go; Hold Back the River; Need The Sun To Break; Craving; Stealing Cars
Ke$ha – True Colors; Die Young; Tik Tok; Blah Blah Blah; Your Love Is My Drug
Big Boi – Be Still; Shine Blockas; Kryptonite
Chvruches -The Mother We Share; Leave a Trace; Bury It
Leon Bridges – Better Man; Brown Skin Girl; Coming Home
City and Colour – Lover Come Back; Wasted Love
DNCE- Cake by The Ocean; Toothbrush; Pay My Rent
Raury – Neveralone; Trap Tears
Daya  – Sit Still, Look Pretty; Hide Away; Legendary; Don't Let Me Down
St Lucia – Dancing On Glass
Mayer Hawthorne – The Walk; Love Like That
Corrine Bailey Rae – Green Aphrodisiac; Is This Love; Put Your Records On; Like a Star; Till It Happens To You;  Enchantment; Trouble Sleeping
My plan is to put the phone down and enjoy the music, but I'll likely add a few clips to our Instagram story. So make sure you're following us!