We're getting closer and closer to Christmas folks. Before you spend big bucks on presents for your favorites, I've pulled together some wallet-friendly gifts for the glam girls, curlfriends, and girl bosses in your life.
*THIS POST CONTAINS AFFILIATE LINKS*
Gifts for the Glam Girl
Kate Spade Wine Tote / 'But First Coffee' Thermal Travel Mug / Makeup Brush Set / OPI 10-Piece Breakfast At Tiffany's Mini Set / Wine Glasses / Rose Gold Headphones
Gifts for your Curlfriends
To be fair unless you know which products your curlfriend swears by you may be better off handing her a gift card, but below are some of my favorite brands for naturalistas!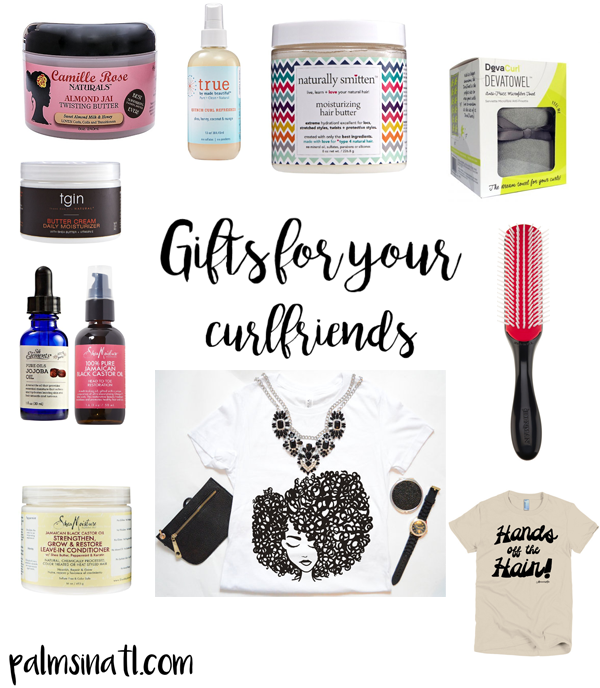 Camille Rose Twisting Butter / TGIN Butter Cream Daily Moisturizer/  Quench Curl Refresher / Naturally Smitten Hair Butter /Sister & Co. Coconut Oil (honestly all of their products are so good, but oils – jojoba, shea, vitamin E, Jamaican Castor Oil are all great!)/  DevaTowel / Denman Brush /Shea Moisture (everything)/ Hands off the hair T-Shirt / Curly Girl Tee
Gifts for the Girl Boss
Business card holder/ Kate Spade Pen Set / Moleskin Notebook / Make It Happen Journal / Master Plan Notebook / Desktop Organizer / Bloom Planner / Day Designer Gold Spotty Planner / Don't Quit Your Daydream Art Print / Every Day I'm Hustlin' Coffee Mug / Goal Digger Vinyl Decal
Don't forget to take advantage of our Holiday gift list printable and stay tuned for part two of my gift guide!!