If you're coming with a U-Haul you have too much stuff!!
In the coming weeks, approximately 1.6 million first-year students will head off to four-year colleges and universities. While there are plenty of campuses with apartment style dorms and spacious living quarters for students, it's likely that as a freshman you'll be stuck in some of the smaller dorm rooms.
Around the nation, students entering their freshman year have an average 228 square feet of living space to share with a roommate. FYI, the average studio apartment is 300-450 square feet. As much as I crossed my fingers that my dorm room was going to mirror The Best Years, I, alas, was confined to a small outdated dorm room with hall bathrooms.
Before my freshman year, I grabbed one of those checklists from Bed Bath and Beyond and racked up on items. A great deal of them were returned after lugging them up nine floors (the elevators were broken for a few hours during move-in). Dorm room fail. I lofted my bed the first semester and eventually got tired of not being able to fall into bed for a nap between classes. Dorm room fail. My Dad came up before second semester started and dismantled my loft bed and set it up on risers. Dorm room success.  In the hopes that I can help others consolidate those bags/boxes on move-in day and avoid a few dorm room fails, I've created this Dorm Room Essentials checklist. Pin it. Share it with your friends or the college student in your life. Click the image for a printable version.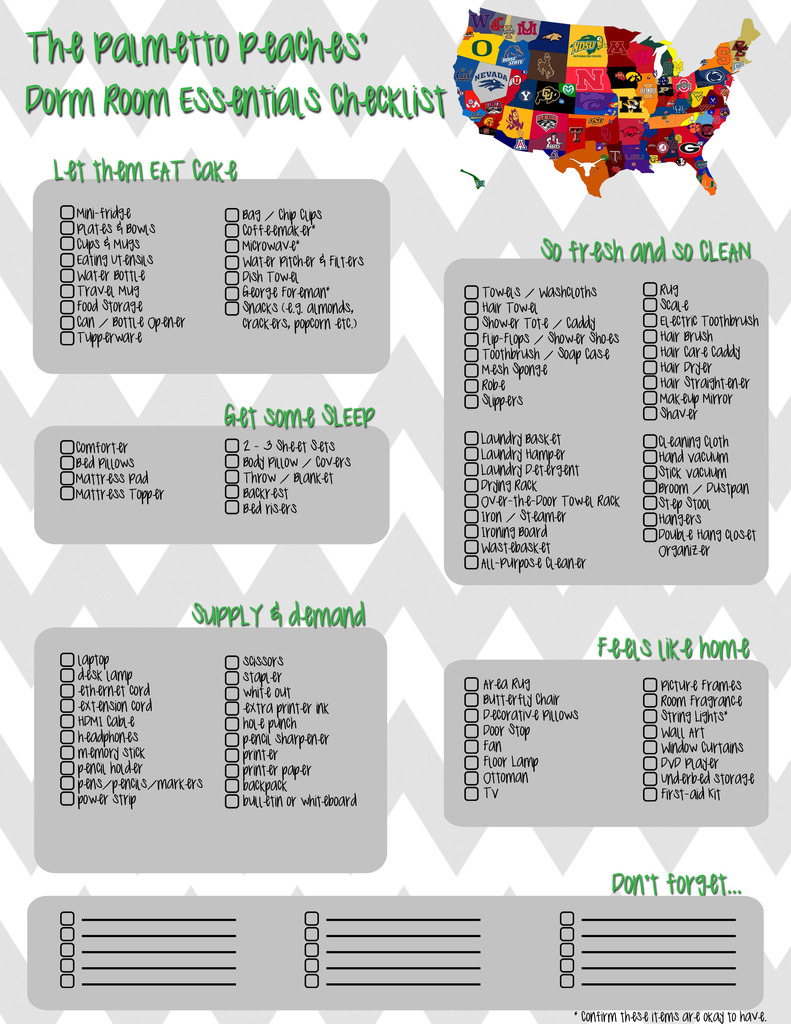 Don't forget to:
Meet the Roomie: Once you've gotten your roommate assignment reach out and say hi! You can also search your Class of 2019 Facebook group for their name. Together you'll need to figure out the items you'll share (mini fridge, microwave, TV, curtains, etc.) and who will buy what.
Also, for those of you flying in,  most schools will let you mail items during move-in. So purchase big items beforehand and have them shipped to campus. Or you could wait until you get into town and find your nearest Walmart, Target, and/or Bed Bath & Beyond. Don't forget to use those 20% off single item coupons at BB&B. Hand one to Dad, Mom, little sister, big brother and purchase your items individually.
Send your friends letters. Yes, adding paper, envelopes, and stamps to your don't forget list will put a smile on the faces of your friends at other universities and back at home. Who doesn't love a little snail mail.
While not specific to dorm room essentials, I would caution you to stay away from the bookstore when renting or purchasing books. Check Chegg, Half.com, and Amazon.com for more reasonably priced books.
Good luck Class of 2019! And to my college grads leave a comment below or tweet me what college essentials you would suggest for first-year students.