Is everyone in your office/class talking about March Madness? The upsets? The odds?  Are you lost?
Last week for the kickoff of March Madness, I starting drafting a post where I would talk about my bracket picks and give you a cheat guide to the tournament. Then Thursday happened and my entire bracket was ruined by some major upsets. Way to bust my bracket UAB and GA State! And C'mon Kansas! Now that the Sweet Sixteen is beginning tomorrow, I thought I'd try another post. I'm not an expert by any means, and you may know that in terms of college sports, I rank football number one. However, I try to keep up with NCAA basketball and for those of you who need to fake your way through the tournament – I got your your back with this guide.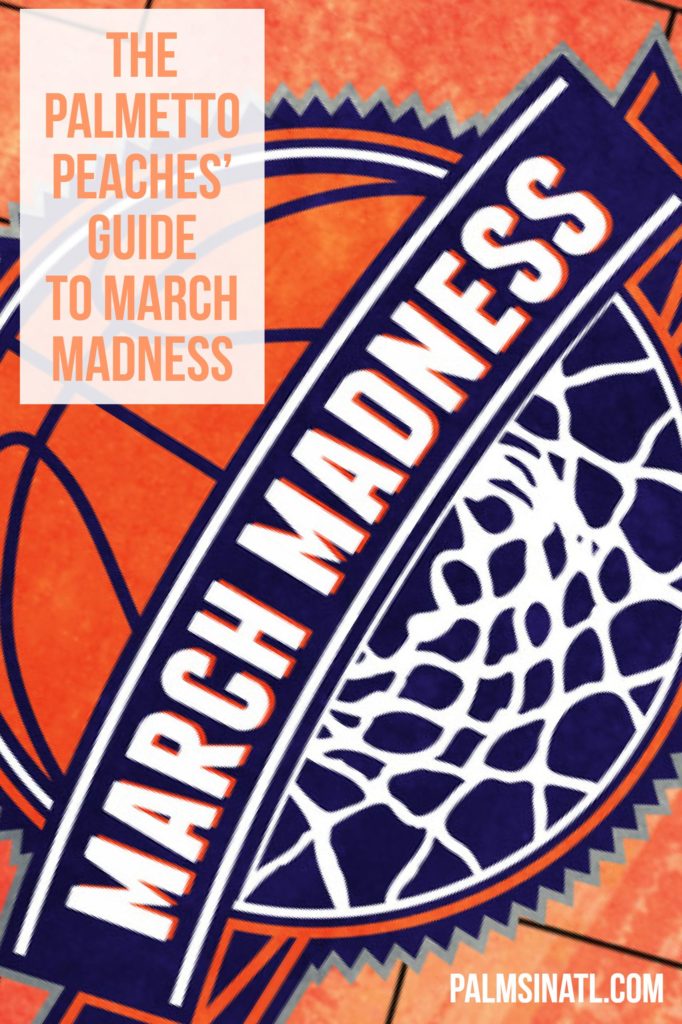 But first let's start at the beginning…
So How Does March Madness Work?
Games are played round-by-round over a three week period where one champion emerges.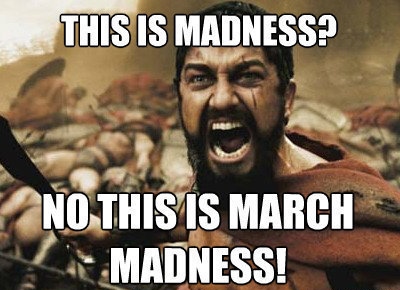 After the "first-four" which is a bit much to explain for this basic overview, the 64-team bracket is established.  Each winner advances into the next round.
After Round 2 – 32 teams remain
After Round 3 – 16 teams remain ( This is called the Sweet 16)
After Round 4 – 8 Teams remain (aka the Elite Eight)
After Round 5 – 4 Teams remain (Hello Final Four) ; Fun fact 2008 was the only year all the #1 seeds made it to the final four)
After Round 5 – Yup, you guessed it two teams remain and some is the national champion and gets to cut down the net.
Why is it called March Madness?
That's just the way it is.  No, that's not true, but I had to do some research on this one. Apparently, "March Madness" traces back to Illinois' statewide high-school basketball tournament, which began in 1908. In 1939, an official with the Illinois High School Association, Henry V. Porter, penned an article called "March Madness" for the organization's in-house magazine. "A little March madness may complement and contribute to sanity and help keep society on an even keel," he wrote. Three years later, he followed up with a poem, "Basketball Ides of March," which read in part: "A sharp-shooting mite is king tonight/ The Madness of March is running." The phrase was confined to Illinois high-school ball until 1982, when CBS broadcaster  Brent Musburger used it during his network's NCAA tournament coverage. Read more here.
What is a seed?
So you keep hearing about those #1 seeds, eh? Nope, they have nothing to do with gardens. Seeds refer to the placement of a team in one of four regions (East, Midwest, South, and West).  Each region has between 16 and 18 teams, which are assigned a seed number of 1 through 18, with the best team in the region awarded the No. 1 seed. Usually, the highest seeds (Nos. 1 through 8) have more success than the lower seeds (Nos. 9 through 16) in the tournament, but there are some Cinderellas.
Cinderella? Like the movie?
No, I'm not talking about Disney's new Cinderella movie.  A "Cinderella" is a team that unexpectedly achieves success in the tournament. Just like Cinderella's chariot turns back into a pumpkin at midnight, most of the Cinderella teams turn back before reaching the Final Four.  But there have been some Cinderella teams in the Final Four (VCU, George Mason, Butler and Wichita State). However, this year doesn't really have a Cinderella. The lowest-seeded team in the Sweet 16 is No. 11 UCLA and SPOILER ALERT- this school has the most national titles in history. Actually, there are 10 programs still playing that have won national titles. Seven of them have won multiple national titles. Write these down for trivia night.
So I think that's the basics. Now that we're caught up you can read my breakdown of the Sweet 16 by clicking more below.