Valentine's Day is coming! Whether you're celebrating with a romantic night with bae or planning to have a #Formation dance-off with your squad, your plans probably include having a few drinks. With a little help from Beyoncé, I'm sharing 5 things I try to remember when alcohol is involved.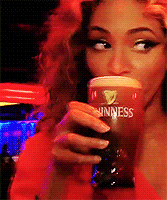 Disclaimer: I am not a doctor, nutritionist or basically anyone to give you expert information on consuming alcohol. I've just had a few good parties in my day, and have mixed a few hundred drinks. I'm sharing this for a little fun. Please drink responsibly.
Do you abide by any of these drinking rules, or do you have any tips or tricks of your own? Lemme know!