I know we're all slowly recovering from a #LEMONADE hangover, but Beyoncé's Formation World Tour kicks off in Miami in 2 days! After April 29th, her Tampa show, I will have seen Beyoncé perform different 3 shows in 3 different cities.
If you're new here, you maybe unaware that I'm a proud member of the BeyHive. From a Feyoncé themed bachelorette weekend to explaining my personal tips for drinking— Beyoncé has a special place on this blog and in my heart, and if you've seen her perform live, you understand!
I want us all to stay in Formation at the concert, so here are a few lessons I've learned from my past Beyoncé experiences.
How to Stay in Formation at a Beyoncé Concert
Live in the moment
Are you going to watch the concert through your phone or your own eyes? While I try to take a few pics of her while I'm there, I like to keep in mind that pictures from the concert will be on Bey's Instagram and website, as well as video footage on DVD or HBO. Queen Bey loves for her fans to seize the moment. During the Mrs. Carter World Show, she told a fan to "put that damn camera down". She was right in front of him and he happily kept recording. I actually would've died.

Don't get
too

drunk

Who wants to black out while in Beyoncé's presence…WHO?! Everyone will remember getting their lives, and all your memories will be blurry or non-existent. Can you imagine the conversations the next day? Whatchu gonna talk about? Nothing.

Secure transportation
Add traffic and parking into your route. When I saw Beyoncé in Charlotte, we got dinner and drinks before the concert. When I saw her in Atlanta, we got Publix rotisserie chicken and mini bottles. Moral of me telling you that is to know what you're dealing with ahead of time. Regardless of which city you see Beyoncé in, traffic is going to be crazy. This is a stadium tour after all. Whatever route you decide, plan transportation ahead of time so you're not stressed out or even worse, late or stuck afterwards! The less stressed you are when you arrive, the better.
Hold on to your tickets for dear life
This is another reason to be coherent before the concert. Running late or not being sober enough to function could result in losing your tickets! This could result in getting kicked out of Formation, and getting kicked out of your squad. If you're printing your tickets, make sure to keep them close to you. I'm using TicketMaster's mobile app, so I'll have everything on my phone. Even if I tragically forget my phone or if it dies, I can use someone else's to log in to my account. That's if I'm not freaking out…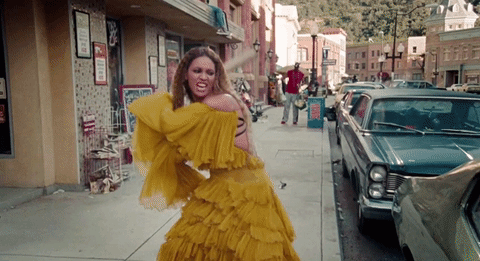 Breathe
This sounds like a no-brainer, but long-time members of The Hive know it's not. You're going to scream, you may cry, but please don't faint. This is one definite way to throw off the Fomation. Your friends can't sing, dance and pick you up off  the floor at the same time. I think the only things that prevent me from fainting is the chance of missing something epic, and my friends are too skinny to physically lift me from the floor.
Hopefully, I'll be able to do a little recap of the concert or at least share some pictures with you! Let us all pray I don't break any of my own rules.
Friendly Reminders: Don't forget to peep those Beyoncé inspired cocktail recipes. I'll share what I'm making my girls drink next week. 🙂 Oh yeah, remember to locate your nearest Red Lobster and make reservations…just in case.
Have you ever been to a Beyoncé concert? What concert rules do you follow while seeing your favorite artists?