The Palmetto Peaches both rock natural hair. We've gotten some rude weird questions like:
Can I touch it? 
No, no, no. Whether you're talking about Ace's locs or Donni's natural curls – the answer is NOOOOO. The answer is always no.
Do you wash it?
We're offended. So let's move on.
Is it real?
No, it's imaginary. Is your hair real?
We'll share the stories of our natural hair journeys at another time, but for now we're excited to talk about a really cool event happening in Atlanta –  Natural Hair Mag's Natural Health & Hair Summit.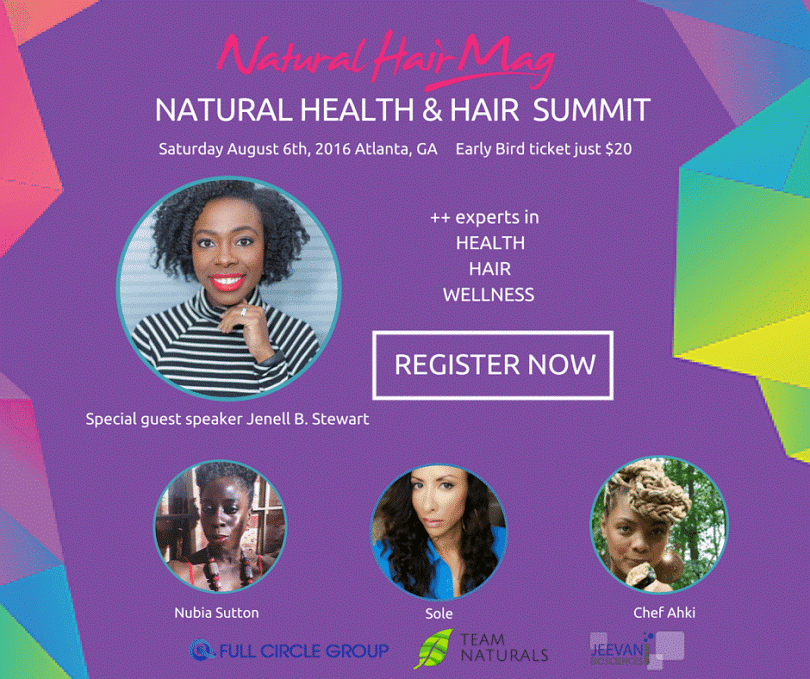 Natural Health & Hair Summit
The Natural Health & Hair Summit is the first natural hair event to emphasize nutrition as the base for healthy hair. This event will boast some of America's best health and hair professionals who are experts in their respective fields. They will cover topics such as nutrition, mental health, personal development, fitness, hair care and more.
NHM PRESENTS: NATURAL HEALTH & HAIR SUMMIT 
AUGUST 6, 2016
Where: Georgia International Convention Center
2000 Convention Center Concourse Atlanta, GA 30337
Price: $20 Early Bird Registration (We'll keep you updated when the ticket prices change.)
Ends June 20, 2016
Speakers include:Tonya (Sole') Johnston, Entertainer, Health, and Fitness Guru; Jenell B. Stewart, Hair & Beauty Expert; Chef Ahki, Celebrity chef, Natural foods activist; Nubia Sutton, Reproductive Health & Raw Food Expert; Koya Webb, Holistic Health and Wellness Coach; and Doctah B., Master Herbalist and Metaphysics Practitioner.
Insert our promo code ATL1113 to receive $5 off the ticket price.
That's right only $15 for this great event. Visit http://www.nhmsummit.com for more information and to purchase your tickets.
Is a ticket to the summit not in your budget, because you spent too much on new hair products? Fear not naturalistas and health and wellness lovers, we've teamed teamed up with Natural Hair Mag to giveaway some free tickets to two of our curl-friends. See below for details.

and