Follow my blog with Bloglovin
If you've read Donni's latest post: Spring Cleaning My Life, you've seen how The Palmetto Peaches are embracing the Spring! On her Spring Cleaning To-Do List, Donni mentioned adding a little more happiness into her life. I'm tackling this by spending time with my nephews. Some of you may already know, but most of my G-Rated stories revolve around those fools, which is why having them in Atlanta for Spring Break is adding to my "happy" (even when they're getting on my nerves). My squad's ages are 3, 8 and 12–so you can imagine what my days are like: loud, adventurous and a little stank.
Yesterday we went to the Atlanta Fair. It was my first time going to a fair in 10 years! I first lost interest after realizing it was a "couples" thing, and again after some kid fell out of a roller-coaster in Columbia my freshman year of college. Despite all that, I was low-key excited to enjoy the amazing Atlanta weather aka try deep fried Oreos.
The 8-year-old got me to ride the Cliff Hanger: a ride imitating hang gliding. I managed to keep it together as he screamed the entire ride. I'll admit I was a little freaked out, yet strangely inspired. Being able to stare into the sky (while wiping the drool from my mouth) was a little relaxing. I didn't think about my overwhelming to-do list or sad bank account. My only mission was to take in the scenery, and laugh at the hilarious commentary. After that, we were tricked into playing about 5 games–all for the love of Ninja Turtles. About $20 and a few curse words later, we got that damn purple turtle.
Out of all the little adventures throughout the day, my favorite was being able to put my phone away and leave my computer alone for 6 hours. SIX HOURS Y'ALL! I used to take pride in getting bored easily. A little birdie told me everyday is different when you're a publicist. I was all like, "Public relations is for me, because it's more than sitting at a desk." Long behold, that's what I've been doing lately: sitting on the couch or floor with a hot MacBook in my lap. When I first began freelancing, I dubbed myself as #FUNemployed (meaning I could work from the beach, coffee shop or at happy hour). So, I'm adding it to my Spring Cleaning To-Do List to be #FUNemployed again. The Palmetto Peaches plan on taking this "Spring Cleaning My Life" to a-whole-nother level–so you'll be reading my full list soon.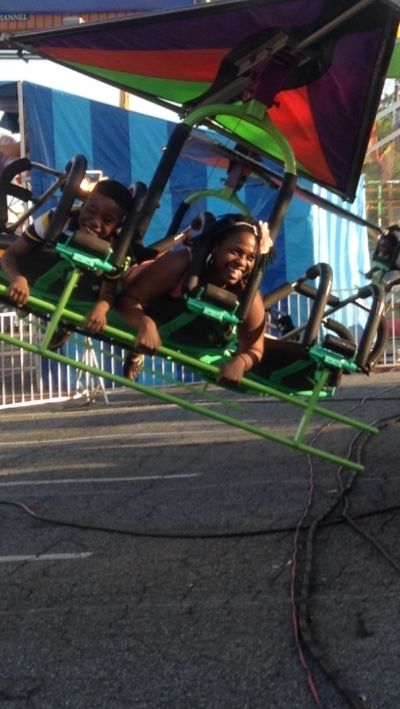 The last few days with the boys have been a sketchy, local fair, roller-coaster ride. Even though my routine is all out of whack, it's a great reminder of why living my purpose is so necessary. I want them to have plenty of "Remember when Auntie did this?" stories. However, I bought (and drank) two mini bottles of wine at 4:00pm today. It was much needed and deserved. And now I'm off to make Easter baskets. No worries–I have two more mini bottles left. Do you have any (kid friendly) Spring Break plans?