Welcome to the end of the week, everyone! I hope you all have some exciting plans for the weekend or maybe you've carved out some self care time. I'm not sure what's been happening with the weather in your corner of this Earth, but in Atlanta we're expecting some serious April showers. Because of that, I don't think I'll be scratching a whole lot of  I'm going to spend some time with my friends, get a little shopping in, and try to get a jump ahead on May blog posts. But before I get started, here are five things that I love or am lusting after right now…
Spring Love & Lust List
Fave Spring Sip
If you don't know I'm a huge fangirl of Lisamarie (Paper + Glam) and her love of seasonal living. On her April Life List, one of the items was to sip Coconut Lavender Lemonade. I've tried to like coconut water, but I can't. It tastes like Bonnaroo 2010, but that's a story for another day. I went with Lavender Lemonade. Check out this recipe from Eat Yourself Skinny.
Fave Spring Scent
I have a habit of buying candles even when I don't need them. When the 3-wick Bath and Body Works Candles go on sale I go crazy. P.S. they are $12.50 right now. You can also head over to Michael's and grab 3 for $10. Anyways the scents I'm lusting after are: Bow Ties & Bourbon, Lemon Mint & Tea, and Hello Beautiful. I've purchased Bow Ties & Bourbon before and loved it. Although, according to my visitors it just smelled like a Kentucky gentleman had been in my house.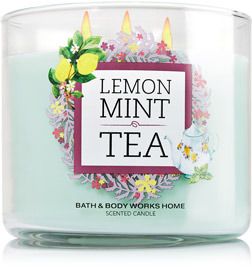 Fave Spring Read
I don't know if you've peeped my Instagram lately, but you may have seen To All the Boys I've Loved Before. The book is about a girl in high school who writes letters to the major loves of her life with the intention of the boys never seeing her letters. Unfortunately, or maybe fortunately, the letters are mailed out. It's a cute quick read and it made me want to be in high school again. Although, my high school love life was nothing like the main characters. I finished it in two days and immediately ran to the library for the sequel: P.S. I Still Love You.
Fave Find
I'm at the beginning stages of purchasing my first home. This is going to be a slow process, but I want to get this right. I've enrolled in a home buyer education class and am working on getting my finances in order. In the meantime, I've loved looking at houses with different style and home decor.  I stumbled across this list of style quizzes: http://www.brit.co/decor-style-quizzes/ and my favorite was HomeGoods' Stylescope quiz. Apparently I'm urban funk with a touch of farmhouse glam.

Urban Funk has undeniable funk and soul. She's at home in a place where industrial meets comfort, where over-the-top meets laid-back chill, and where retro art meets graphic simplicity. And she does all this in a way that feels totally effortless. Farmhouse Glam is the delicate, exquisite balance between beautiful femininity and rustic nonchalance. She's all about the discovery of unexpected sparkle amidst the less polished. She wears high heels and a denim jacket, a string of pearls and bare feet. And her home feels as special as it does comfortable.
Yup I buy all of that.

Fave Tunes
Lemonade. Lemonade. Lemonade. Obviously, I'm loving Queen Bey's new music and am super jealous Ace is headed off to Tampa to experience this tour. Besides Beyoncé, I can't get enough of Mike Posner's I Took a Pill in Ibiza, Drake's One Dance and I've had Prince's entire catalogue on repeat.
What are some things you are loving or lusting over right now? Leave me a comment below!