In 2010, I spent 2 weeks in the Dominican Republic with International Student Volunteers. I remember crying in the airport, not only because folk in Miami were mean, but because this was the first time I would be around people I didn't know. It was like the first day of kindergarten except without my mama and cute new clothes. Oh yeah, and I was over 1200 miles away from home. But as the days passed, I began to realize this was one of the best decisions I've ever made. Not only was I helping children and a community in need, I was becoming friends with amazing people who were almost my total opposites. How do you become friends in two weeks? Without electricity, social media or cell phones…that's how!
When I returned, I had $15 in my bank account and a Ziplock bag full of pesos I could not use to pay my light bill. Did I care? Nope. I was still so full of gratitude and humility after seeing how happy people were with so much less than I had. Fast forward to a few revelation talks later, and I'm introduced to The Secret. First the DVD, then I bought the book. Naturally, I was freaked out; but the more I listened, the more it made sense.
Like I said, two weeks without a cell phone and Facebook helped to clear my mind, which made room for fresh daydreams and ideas. With a little help from The Secret, I decided to make a vision board. Ya girl was full of goals, especially because it was the summer before my senior year of college. I don't have a picture of the vision board, which wasn't that visually appealing in the first place, but I remember most of what was on it.
Picture of the Queen Bey: After basically stalking her at Bonnaroo, my craving to see Bey in concert kept growing. I was determined to see her perform live. FYI: That vision came true in 2013 and 2014.
The word/year "Vegas 2011″: I met two amazing Capricorns while in the DR, and we made a pact to celebrate our birthdays together in Vegas. I can do a lot of things, but "go to Vegas broke" was not one of them. This was my reminder to save money, and to not back out.
The number 3.5 (GPA) With graduation being less than a year away, I had to have some type of education goal on this thing. I made the Dean's List and President's List, but finished with like a 3.389578493 GPA. The damage from 2008 was already done, haha. I tried though!
Picture of a melanin queen rocking a mouth-dropping afro: I was hiding my natural hair under braids and for about 2 years. She was the encouragement I needed to not go back to the "creamy-crack".
The words "Lose Weight" I didn't have a specific goal in mind, and honestly, it was because I didn't weigh myself in years. This vision didn't set motion until about 5 months later, when I almost had a meltdown in the Target dressing room while buying new jeans. Fast forward to September 2011, and ya girl was 40lb lighter.
"New Orleans" I was obsessed with the idea of living in New Orleans, and not because it was socially acceptable to day drink on Bourbon St. Reason number 1: My dad and his family are from New Orleans. This city is home to all these people I'm connected to, and I don't know anything about it…or them. Reason number 2: I watched Princess and the Frog, and came to the conclusion that I was Princess Tiana.
So here I am, 5 years after my first vision board, with new dreams and goals. This time I'm taking the digital route, and using more pictures instead of text. To be honest, I need like 10 vision boards to cover every area of my life. I did my brain and iPhone storage a favor, by only making 2 for now.
My Vision Board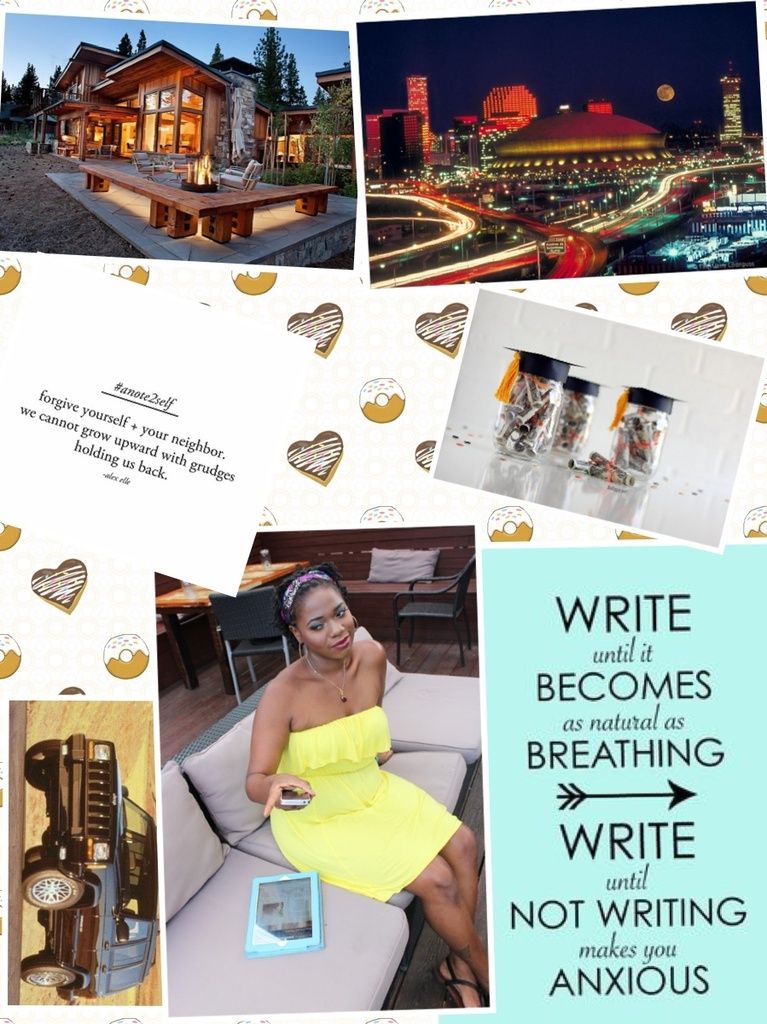 In a nutshell, I want to…
Write: Children's books, coming of age dramas, screenplays, novels…basically everything.
Travel: The picture with the big moon is New Orleans. The picture of the house with the outdoor fireplace is my future home. I have to add curtains to those big windows though.
Fit that yellow dress again.
Become financially stable: Because I can't do any of these things without money.
Go back to school: Translation = get an iPad.
Be a better business woman: Translation = get a new MacBook.
GO TO DISNEY WORLD: I wrote it in all caps, because it is that serious.
I made these using Moldiv, a collage app, and they're now the wallpaper on my phone. This makes it easier for me to look at everyday and keep up with. Next on my to-do list is to write down the steps I have to take to make this magic happen! Just in case you were wondering: the doughnuts are a background I chose, not a vision. Do you have a digital vision board, and/or multiple vision boards? What do you do to make sure you see it, or them, everyday? Leave a comment below or tweet me @PalmsInATL and tell me all about it!