Daaamn, Ace, back at it again with the vision board.
In November, I shared my digital vision board with you in Use a Vision Board So I Know It's Real. Originally, there were 2 digital vision boards in the post, but I made a rookie mistake by deleting one from Photobucket.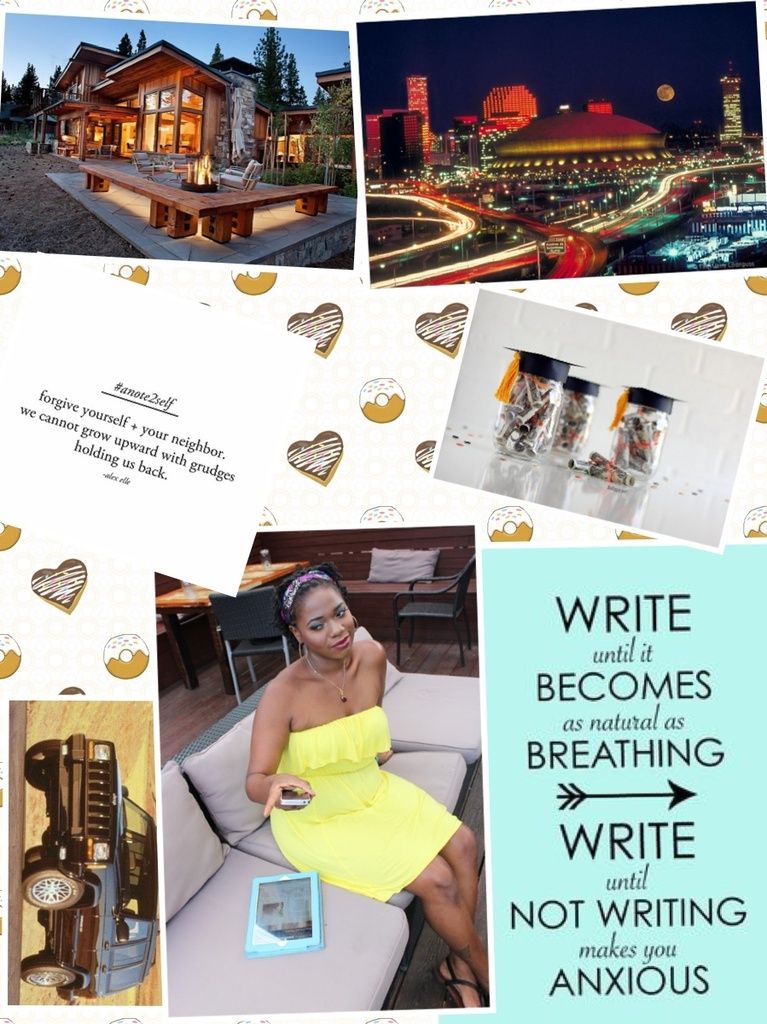 Vision boards are a way to visually keep up with your goals and dreams. If you place it in the right spot, you're constantly reminded: "Hey girl, you want this. Go get it." The purpose of my digital vision board was to keep it on my phone as a daily reminder of what I wanted. It's time for me to admit that didn't last long. I don't look at my vision board as much as I initially planned to, which is why my progress isn't THAT significant. But hey, let's celebrate the little wins today!
What's on my digital vision board, and where am I now?
Write: Children's books, coming of age dramas, screenplays, novels…basically everything.


Update:

They say real G's move in silence like lasagna, so once it's finalized–I'll share the writing opportunity I accepted. On another note, the more Netflix and #LEMONADE I watch, the more I want to be a professional storyteller. Recently the universe connected me with a potential future mentor. She's a social activist and writer. If I don't take advantage of this opportunity, I'll be the only person to blame. 

Travel: The picture with the big moon is New Orleans. The picture of the house with the outdoor fireplace is my future home. I have to add curtains to those big windows though.


Update:

So far the only cities I've visited outside of South Carolina are Charlotte, NC and Tampa, FL. BUT Beyoncé recently added a show in New Orleans September 24th, and I have a pretty strong craving to go! There are some ideas up in the air for summer trips, but I try not to get excited about things until transportation is booked and/or I'm already on the way there. 

Fit that yellow dress again. I'm taking this off of the list for my sanity. Instead of trying to fit into my clothes, I should focus on being healthy. There isn't any real progress here. I don't weigh myself anymore, and my old clothes still don't fit me well…so there's that.
Become financially stable: Because I can't do any of these things without money.


Update:

I'm definitely not there yet. Soon I'll be starting a part-time summer gig, and I'm working on a few freelance opportunities right now. Hopefully, this will be the beginning of my financial freedom.

Go back to school: Translation = get an iPad.


Update:

I got an Amazon Fire, and it is not the business. However, it is better than relying on my phone for everything. Continuing my education is still something I want to do, I just want to make sure I'm going back to get me closer to my purpose.

Be a better business woman: Translation = get a new MacBook.


Update:

Between my planners and Evernote, I am getting more organized and less overwhelmed. You know what would be nice though? A virtual assistant to remind me to check my planner, or to read it for me. A social media intern would also be nice. P.S I'm entering a MacBook contest on the 22nd. Your good vibes are much appreciated.

GO TO DISNEY WORLD: I wrote it in all caps, because it is that serious.


Update:

I'M GOING TO DISNEY WORLD for my sister-cousin's bachelorette party! Hopefully, I can keep it together. The last thing I need is for Mickey Mouse and Princess Tiana to see me drunk-crying in the magical, Disney streets. So. Many. Emotions.
Do you have a digital vision board? What steps are you taking to bring your visions to life?