Most of us remember 2001 because of the tragic attacks that occurred on September 11th. While this devastating event still affects us, The Palmetto Peaches are taking a walk down memory lane by remembering 2001's fashion, music and more.
Here are a few things that happened in 2001:
Apple announced iTunes and the iPod
Legally Blonde, Donni Darko,  The Princess Diaries, Shrek and Save The Last Dance debuted in theaters. Also the first installments in the Harry Potter and Fast & Furious series were released.
The  Netherlands becomes the first country in the world to legalize same-sex marriage
Venus Williams was the "better" Williams sister and on top of the tennis world
Now that  you're in 2001 mode, here's what The Palmetto Peaches were up to:
What Happened to 2001 – WHAT WE WERE DOING
Ace: This is the year I turned 13. Not only was I fighting horrible acne, bad skin, AND getting 8 wisdom teeth removed–I was battling a beautiful obsession with Mariah Carey. For my 13th birthday, I had a Mariah Carey birthday cake. (If you're a friend or family member and have a picture of it, please send it to me.) The pictures I used were from the Rainbow CD and the Heartbreaker single. Remember when I thought Mariah was singing my name in Heartbreaker? Click here to refresh your memory.
Why was this ever ok?!? ???
2001 was also the year my 7th grade class took an overnight trip to Barrier Island. That's probably when the hippie in me was born. We had these cute Kumbaya moments, which was a big deal because 7th grade was "rough" for a lot of us. How could you not be happy after a trust fall, glow in the dark Lifesavers and dancing in mud?
Donni: Hmm, in 2001 I was 12 – burning mix CDs from songs I downloaded on Napster, Limewire and Audiogalaxy; taking more dance classes and counting down the days until I became a real teenager. I also started writing fan fiction that year, but more on that when we talk about 2002. 2001 saw my last years in my private Christian school. I'd been in class with the same kids since first grade — some I'd known since in preschool. My school was small and we were a family. I don't remember how many girls were in my sixth grade class, but in 7th grade, I was the only girl. I remember sitting in my pre-Algebra (I was taking math with the 8th graders) class one day, when my PE and Bible teacher interrupted class and walked quickly to the back of the room to whisper into Mr. Ard's ear. It was September 11 – a day we'll never forget. They took us to the chapel – where we prayed and cried and tried to understand what had just happened.
What Happened to 2001 – What We Wore
Ace: Yo. I got this airbrushed Phat Farm denim suit for the Christmas of 2000, and thought I was so cool. Guess who was airbrushed on the back? Tigger. ? Yes, the only tiger I truly loved. Don't let me forget my gold name necklace and army fatigue Saucony's. Other than ugly clothes, I also wore a bald head. My mama convinced me to cut my hair, because it was damaged. Although it was for the best, I really did look like a little man. Ya girl was #TeamNatural.
Donni: When I wasn't in my uniform (plaid skirts, navy blue or khaki jumpers and skirts) I was wishing I could be and dress like Kelly Rowland from Destiny's Child. Now 2001 was the year of "Independent Women Part I", "Survivor" and "Bootylicious" Destiny's Child. I wanted to dye my hair just like Kelly. She was my Beyoncé – well before Beyoncé was Queen B. My momma wasn't having it. I dressed more like Mandy Moore – safe and wholesome.
What Happened to 2001 – WHAT WE LISTENED TO
Donni: I had split personalities when it came to music back in 2001. Either super tweeny pop or R&B was pumping through my portable CD player. Obviously, BSB was still high on my list with jams like "The Call" and "Drowning", but AJ went to rehab that summer. I will also admit NSYNC had some strong contenders back in '01. Who remembers "Gone"?  I also distinctly remember trying to learn all the choreography from Britney Spears "I'm a Slave 4 U". Then O-Town dropped this classic:
Outside of tween pop: Jagged Edge – Where the Party At;  OutKast – Ms. Jackson; Sunshine Anderson – Heard It All Before; Eve and Gwen Stefani – Let Me Blow Ya Mind and J-Lo and Ja Rule – I'm Real. But my favorite was probably this fantastically dramatic singalong:
Ace: Obviously, Mariah Carey. The Glitter movie and soundtrack released in the fall of 2001, and I faithfully supported both. At the time, I had every album. MC turned me into a hopeless romantic. The way I sang "Vision of Love", you would've thought I was going through an ugly divorce. However, I was slowly recovering from having my heart broken by the Spice Girls. But I wasn't too hurt to learn the dance moves to Bootylicious, or choreograph my own moves to Lady Marmalade.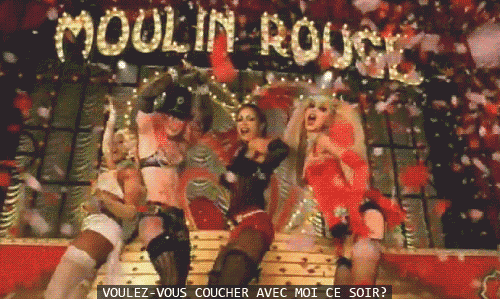 We want to hear what you were up to in the year 2001! Comment below or tweet us @PalmsInATL!
and