I was that little girl who used to call psychic hotlines (shoutout to Ms. Cleo) and hang-up hoping my mama wouldn't see the charges on the phone bill. It's no secret that I'm a lover of the "magical" things: chakras, healing crystals, and the law of attraction. So my desire to have a card reading doesn't surprise most people.
In January, I met some pretty dope women artists at Living Color! Other than the artwork and good vibes floating in the, a sweet spirit by the name of Julia "JuJu" Catherine gave me her Goddess Guidance Oracle Cards to give myself a reading. I will admit I was a little nervous to see my cards at first, but felt inspired after they were revealed
Photo credit: Paul King
What are Goddess Guidance Oracle Cards?
I know the thought of an oracle card reading freak a lot of people out because they assume it will predict their death or downfall. The Goddesss Guidance Oracle Cards by Doreen Virtue are a little different, because the goddesses are here to sprinkle magic and improve your lives. The oracle cards are empowering and loving, not negative or judgmental.
"Dedicated to the spirit, power and beauty of the goddess, which exists within every woman, man and child. May the goddess reawaken and bring feminine balancing energy to the world. May our feminine strengths of intuition and nurturing fully reemerge."

-Doreen Virtue
How to give yourself a reading:
The deck comes with a guidebook, because who wants to screw up an oracle reading? "Not I," said the cat. Read the guidebook before getting started to help you understand how to do a reading. and how to interpret the cards chosen.
Focus on a question you want the oracle cards to answer.
Then you shuffle them until something in your soul tells you to stop shuffling.
Remove 3 cards from the deck.
Place the first card to the left, the second card in the middle and the third card on the right. The card on the left represents your past; the middle represents your present; and the right represents your future.
My cards:
Before shuffling my cards, I asked myself something along the lines of, "What am I doing with my life?" It was one of those days. Check out the responses below.
Left card (the past):
Goddess: Sekhmet.
Meaning: Be strong.
"You are stronger than you think you are, and your strength assures a happy outcome."
I always joke about how my biography, starring Debbie Allen as my mom (duh!), would be great for Oprah to direct. My life hasn't been an easy one, but I'm still here and that's all that matters!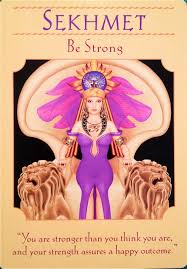 Middle card (the present)
Goddess: Aphrodite
Meaning: Inner goddess
"Awaken the goddess within you through dance, self-care, and appreciating your divinity."
I just celebrated my 29th B'earth-Day, also known as, #TwentyWineSavage. It's so funny when people ask me, "How do you feel?" Instead of the "This is the last year of my 20s" freak-out like people expect me to have, I've been tapping into my inner goddess by being thankful I'm still alive– all while dancing every chance I get.

Right card (the future)
Goddess: Sarasvati
Meaning: The Arts
"Express yourself through creative activities."
The arts have always played a special role in my life. (Hence how I got my hands on these Goddess cards in the first place.) Eventually, I'd like to create my own arts program and/or school. Opportunities to help make my dream a reality are trickling in this year– I just have to get focused enough to execute.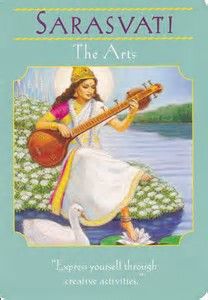 See, that wasn't so bad.
Have you ever had an oracle card reading? How was it? Let me know in the comments or tweet me @PalmsInATL. If you'd like to give yourself or your squad an oracle card reading, purchase a deck of Goddess Guidance cards here.